Who Knew that most of 2020 we would spend indoors?
Who knew that travel would be limited?
Who knew that retail shopping would be literally non-existent in person?
Who knew that the internet would be your best friend?
Who knew that D.I.Y and gardening would be so popular?
Starting in January 2020 I wanted to shop for boots! I had in mind what I was looking for, brown or grey knee length suede boots with a small heel, just a chique pair of boots, a pair that wasn't the price of my mortgage payment.
I perused the malls frustrated and empty handed.
Normally, I would wait till our trip back to England where I love perusing the shops to update up my wardrobe for the seasons ahead. Nothing too ostentatious or expensive. I know I would find what I was looking for and the joy of trying on clothes, shoes and boots. Don't you just feel so fulfilled carrying those bags with the name of the store emblazoned on the front, all wrapped in tissue paper.
And then I woke up to find everything had changed.
Would shopping online be the answer?
However, there are some things a woman must be able to try on as sizes often vary, so it's a bit of 'pot luck' ordering online.
Not to be disheartened I decided to wait till we could get back to the UK later in the year. Who knew that wouldn't happen either.
At least I thought, I could order more simple things such as pajamas, underwear and a couple of tops from my favourite stores in England who ship to the USA.
Namely, Marks and Spencer, Next, Bravissmo among others
www.marksandspencer.com
So, this week online PJ shopping! OMG! What did I find…… as fast as I tried to place an order they were out of stock repeatedly!
Seems like PJ's are the new 24hour clothing item along with sportswear.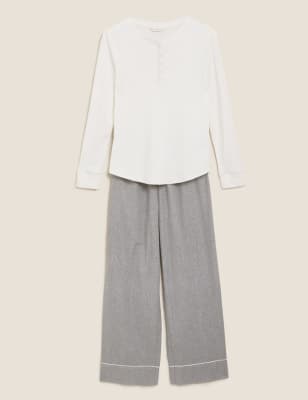 The grey and pink set were out of stock when I went back online so here is the white and grey option.
How did I set off looking for footwear and ending up with pajamas?
As for the boots? Well? they are out there somewhere.