The temperatures have cooled down after a long hot summer.
Time to look at your wardrobe for the Autumn/Fall/Winter
I have a few things that will be making an appearance again this season, however, I cant resist adding a few extra pieces to my wardrobe.
Recent acquisitions include:
Shadow Leaf Blouse by Cabi. A size small is a perfect fit for me, love the sleeve design with the added cuff. Pair with black Jeans, Denim or an evening trouser.
A classic Skinny Jean from Cabi perfect with these animal print boots, although I didn't order these. What about that coat as a statement piece?
Not the coat or boots, playing safe with these Cabi black cinch skinny jeans that will pair with anything, dress up or dress down.
This gorgeous laser cut scalloped dress (high at the front longer at the back) a steal from Shein. Green isn't a colour I normally wear, but it's time to experiment.
A soft tulip hem sweater from Shein, that will work with pretty much anything from Jeans, to maxi skirts or tailored pants.
Leather and suede side buckle ankle boots from Marks and Spencer are so comfortable, once again a staple piece for all seasons.
I have these in a mink colour from a couple of years ago, I chose a wide fitting therefore, a size down from my normal size. I have worn them constantly and they are so versatile. When I saw the black ones online I dd not hesitate to add them to my collection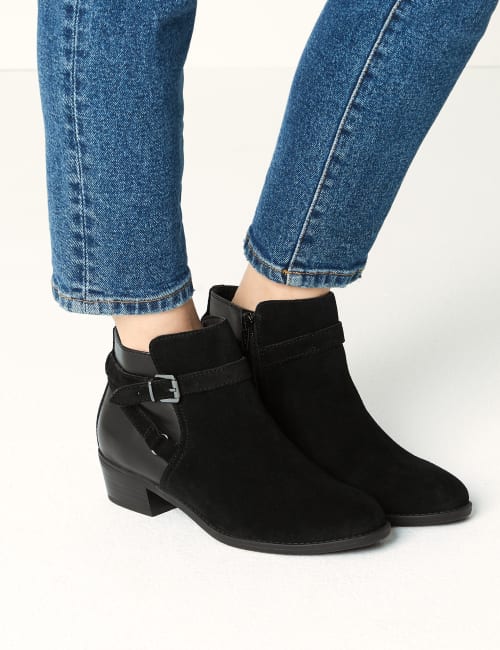 Now I am not saying that these items will be the only ones I add to my Autumn/Winter wardrobe as I have a yearning to find a classic Camel Coat! So watch this space.
Where do I shop?
Shoes and boots mainly when I go back to the UK – Carvella, M & S, Moda In Pelle, Charles Clinkard. Underwear and swimwear – Bravissimo and Marks and Spencer, Clothing- Apricot, M & S, Zara, Cabi, Shein, Next, Macys, TJ Maxx and lots more, I love to bring something back from holiday too.
What are your favourite stores to shop?
What clothing items are you looking to buy currently?
Are you an online shopper or a high street a try on in store person?
Do you have a particular designer that you follow?
Wrap Up for Autumn? Wardrobe Essentials